(8th – 12th grade students)
"You have to connect the past to the present. The students, who are young people, will take that with them into the future."
-Leo Bretholz
Survivor, Author; "Leap Into Darkness"
Survivors of the Holocaust are aging and dying with each passing year. It is important not only to record these stories but to ensure that the lessons of the Holocaust are understood by the younger generation.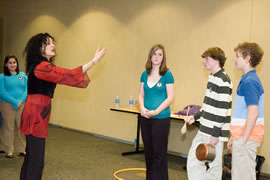 Becoming the Voices was developed in a successful pilot project with the Baltimore Jewish Council and The Center For Jewish Education, pairing Jewish and non-Jewish 8th-12th grade students together with Holocaust survivors and professional storytellers. "We wanted to create memories for these students that would be different than just sitting passively in a room listening," says Lawrence Ziffer, executive vice president of the Center for Jewish Education. "Because they go in knowing they have to retell the story, it changes the way they listen…We want them to come out of this, understanding the enduring lessons of how people learn to survive in the face of adversity." (Baltimore Sun 4/15/07 "New Witnesses to History)

Working in small groups with Katherine, the students first practice ways of listening and sharing each other's memories. They then meet with the survivor to hear their story and ask questions. Finally, Katherine will lead a workshop or series of sessions with the students to create a re-telling of the story for performance or presentation to their schools. They will "become the voices" for their generation.
"When I listen to your story… I will close my eyes and imagine I am you…When I listen to your story…I'll imagine I'm there."
-8th grade participant in "Voices"