If you missed Katherine Lyons perform a Purim spiel at the Creative Alliance, you missed the drama, dazzle, and tension wrapped up in the whole megillah.
The fine script by Steve Schutzman captures the humor and terror embodied in the Purim story. Accompanied by the orchestra, Klezzaz, Ms. Lyons compellingly depicted all of the major characters of the traditional Purim spiel. The actress' superb portrayal of Queen Esther sensitively captures the fateful choices our heroine was forced to make.
Dr. Barry S. Lever
…A thrilling portrayal of the five characters in 'The Purim Story.' You made these people real and multi-dimensional in a way we rarely see.
Joyce Wolpert
Registered Dance Therapist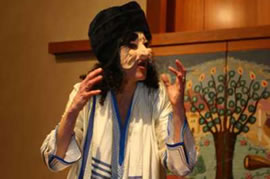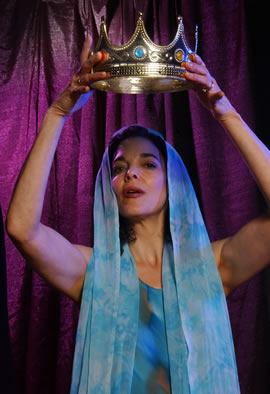 I was privileged to attend a performance by Katherine Lyons, a gifted actress, who presented a dramatic interpretation of the Book of Ruth. While this was hardly my first exposure to Ruth, it was definitely the most powerful. Far more than entertainment, Ms. Lyons offered insights into the story and characters that were clearly made possible through a significant investment of time and study.
Ms. Lyons' intelligent interpretation and her sensitive portrayal were spellbinding. The audience was transfixed. As a regular Broadway theatre patron, I can honestly say I have rarely seen so brilliant a performance.
Ms. Lyons is the consummate performer, a joy to observe. I highly recommend her to any group who wishes to spend a thrilling hour that they will never forget.
Judy Meltzer, Director
Stulman Center for Adult Learning
Chizuk Amuno Congregation 
The awe and appreciation of The Lecture Group for your stunning performance, 'The Journey of Ruth,' was very obvious.It was fascinating and exciting to watch transformation of the bima of Oheb Shalom into an ancient village, then a dry desert, next a wheat field before the harvest and finally a home. We heard their voices and felt their emotions. All this as the story of Ruth and Naomi unfolded before our eyes.
How you were able to metamorphose a long silk scarf into a magic wand, I will never know.
My friends and I look forward to many more hours of charm watching your performances again and again.
Joy Hyman
The Lecture Group
Program Co-chair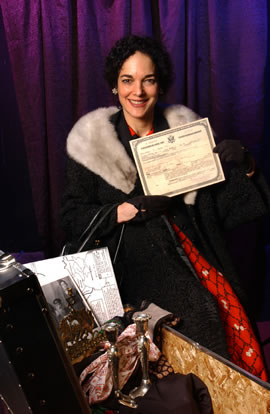 Katherine Lyons and her undeniable talent allowed students and staff of Independence High School to learn, feel, and experience the struggles, hardships and joys of an immigrant to Baltimore. Students were not only able to relate to a topic they could not identify with first hand, but for over an hour they forgot about a world that included i-pods, music, and racism. Ms. Lyons performance brought a spirit of knowledge and understanding, a performance that was multicultural, a performance that students continue to talk about and learn from.
Cindy Casey
Special Educator
Independence High School, Baltimore, Md
Wonderful presenter. Captivated students' imagination and solicited their background knowledge and participation. Moved us to tears. A powerful learning experience.
Laura Nakatani
Pearl Bailes
Capital Hill Day School