Stories Alive Through Drama
Program description
(2—3 hours)
Through demonstration and hands-on activities, teachers will be given the tools and confidence to bring dramatic techniques and strategies into their classroom, using the book as a starting point to go beyond the written word.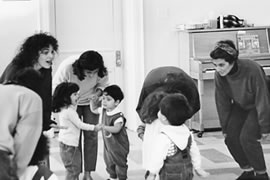 Participants will learn:
How to choose a book that has possibilities for dramatic storytelling and maximum student participation
How to integrate curriculum goals within the story.
How to use drama in developing problem-solving, critical and creative thinking skills.
New strategies for storytelling using voice, movement, props and instruments, role play and imaginary travel
Teachers will have an opportunity to work collaboratively with others to explore and practice the strategies demonstrated in the workshop.
"I left feeling motivated and excited about changing the way I tell a story."
-Leslie Sands, Preschool teacher
"The songs, movement, and drama will make my storytelling more compelling."
-Rhona Plunke, Preschool Teacher