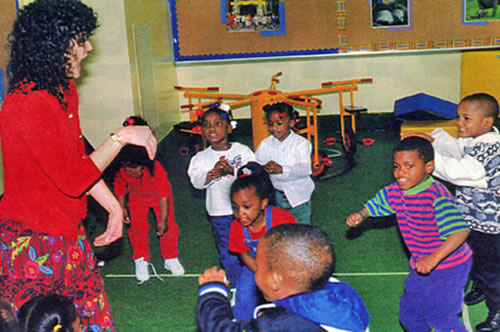 Miriam C. Flaherty Willis
Senior Director, Education
Wolf Trap Foundation for the Performing Arts
Katherine Lyons brings talent, intelligence and genuine warmth to her work with young children and their teachers. For twenty years, she has been a Wolf Trap Teaching Artist and conducted residencies in Head Start, preschool and public school classes in the Baltimore community. Her commitment to high quality arts education has made her a leader in the field. Wolf Trap is very proud of our long association with Katherine Lyons.
I will use the strategies I learned going forward in my practice. Both of my daughters are teachers as well and I have been sharing your ideas with them, even teaching my granddaughter the story chant!
Laura Clements
Early Childhood Literacy Specialist
Frances Fuchs Elementary
Math Detectives
Wonderful - One of the best, most relevant classes I have ever taken.
Excellent! The Arts Strategies tie into all areas of development.
Early Childhood Educators from Western Maryland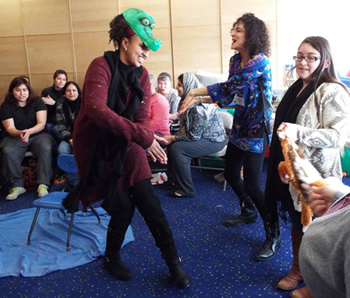 Katherine Lyons and her undeniable talent allowed students and staff of Independence High School to learn, feel, and experience the struggles, hardships and joys of an immigrant to Baltimore. Students were not only able to relate to a topic they could not identify with first hand, but for over an hour they forgot about a world that included i-pods, music, and racism. Ms. Lyons performance brought a spirit of knowledge and understanding, a performance that was multicultural, a performance that students continue to talk about and learn from.
Because of Ms. Lyons students at Independence better understand how the arts can be useful in the comprehension of material they have no or little previous knowledge of. They understand that education goes beyond textbooks and paper and pencil test. I cannot thank Ms. Lyons enough for her contribution to the education of our students, and cannot wait for her return.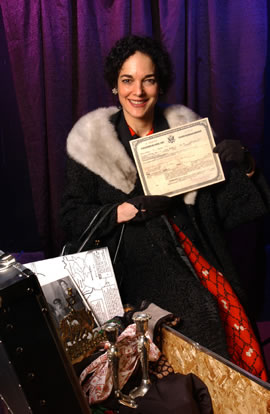 Cindy Casey
Special Educator
Independence High School, Baltimore, Md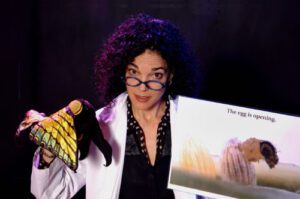 Recently our students enjoyed the privilege of a visit from Ms. Katherine Lyons, a.k.a. "Catherine Curiosity." She engaged our students in an exciting, interactive program called, "The Drama of Metamorphosis". This presentation actively involved our students in a reenactment of the life cycle of a butterfly. Through costumes, movement, and drama, the students thoroughly enjoyed this program, while reinforcing the academic content of our science program. We were very fortunate to have her as a returning artist, and we highly recommend her to any elementary school.
Allison Hogeman, First Grade Teacher
Mary Frantz, First Grade Teacher
Treasure Zimmerman, First Grade Teacher
Cedarmere Elementary School, Reisterstown, Md
Ms. Lyons brought joy and knowledge to my Pre-K class and myself. Her talent is fantastic! Every child, every day was engaged and learned a lot.
Nancy E. Schechman
Mt. Washington Elementary School, Baltimore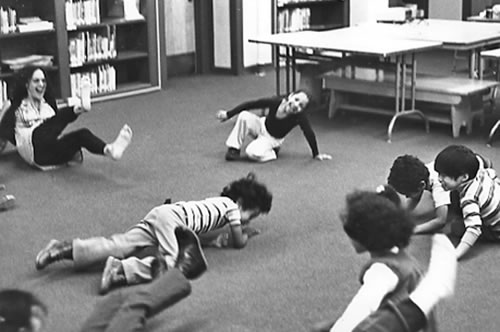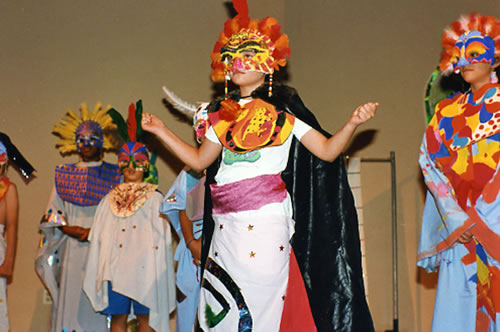 Carolyn Frye Halloran
Coordinator, Public Programs
The Walters Art Gallery, Baltimore, Md.
As a teacher for our drama workshop at the Walters Art Gallery, Katherine has been responsible for creating and researching the script, directing the production, developing each child's talent, and putting the play on stage. She has done each brilliantly, with professionalism and compassion. Katherine has a great intuitive sense for what works on stage. Not only is she a talented actress and teacher but she is also wonderful to work with.
Katherine uses dramatic techniques as a lens through which students can acquire a deeper understanding of our sacred texts. Under her direction, I have personally seen our students step inside the shoes of our Biblical ancestors to explore what they were thinking and feeling at critical moments in their lives. "Give Katherine a mask and she can make any character become real."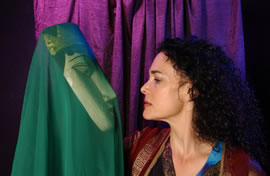 Rabbi Stuart Seltzer
Dean of Judaic Studies
The Shoshanna S. Cardin Independent High School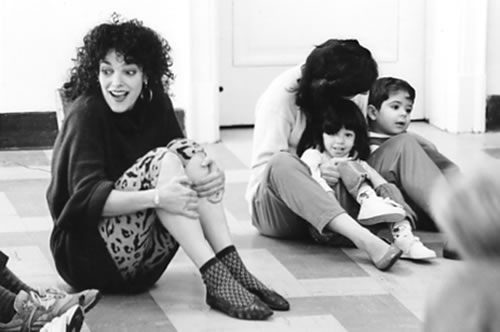 The teachers thoroughly enjoyed your professional development workshop, "Using Drama as an Expression of Faith." They left feeling inspired enlightened, motivated, and had new ideas on how to tell a story to their students. They commented on how creative and knowledgeable you were and expressed appreciation for such terrific handouts.